daddystabz
Seasoned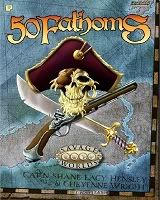 Joined: 03 Jun 2007
Posts: 171
Location: Columbus, OH USA
Posted: Wed Jan 04, 2012 5:15 am

Post subject: Parry calculation question

---

I am just now trying to return to Savage Worlds with my new copy of the deluxe book (GREAT work, btw) and the new 50 Fathoms PDF, as I await my print copy and bennies. I have forgotten a lot of the basics of how the game works from my previous experience with the system so I'm reading through the core book thoroughly.

My question is in regard to page 17 under Parry. I have no clue how the example for scores such as D12+1 when calculating Parry comes out to 8 (2 + 1/2 D12). I am not seeing this.

Can someone please explain this to me as if I'm a total n00b/moron?

Thanks in advance!
Clint
Site Admin



Joined: 13 May 2003
Posts: 16157

Posted: Wed Jan 04, 2012 9:03 am

Post subject: Re: Parry calculation question

---

daddystabz wrote:
My question is in regard to page 17 under Parry. I have no clue how the example for scores such as D12+1 when calculating Parry comes out to 8 (2 + 1/2 D12). I am not seeing this.



"2 + half of d12" is 6 (half of 12) added to 2 equaling 8.

The d12+1 example is refering to the round down ruling mentioned there where half of 13 (12+1) would be 6.5 rounded down to 6 which again added to 2 would be an 8.

Hope that clarifies.
_________________
Clint Black
Savage Worlds Core Rules Brand Manager

www.peginc.com